Cool Mom Picks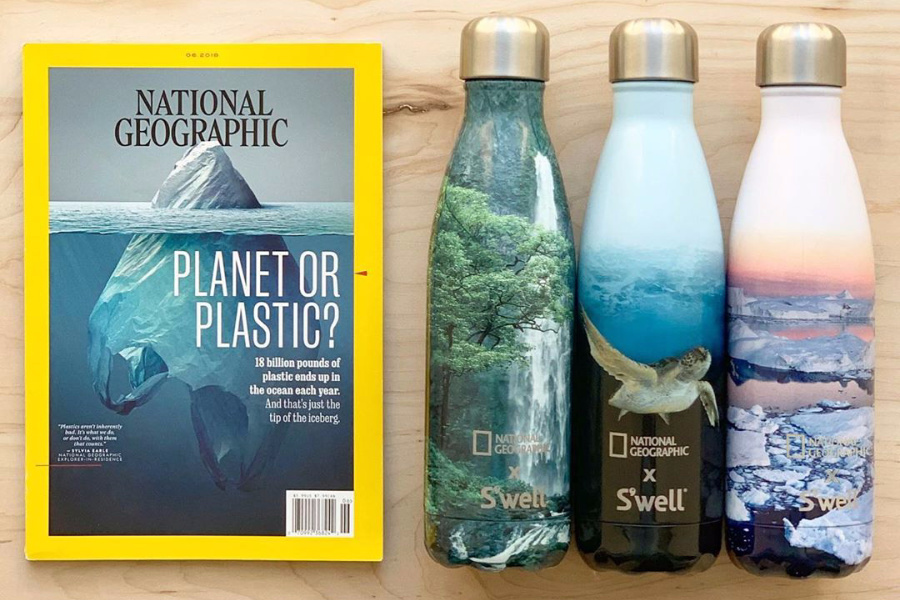 I love that increasingly, so many of us are trying to be more mindful with our product purchases, opting for eco-friendly reusable products instead of wasteful single-use alternatives. It doesn't just make good earth sense, it makes good budget sense. Besides, some of these changes are becoming law.
There's a growing number of cities and college campuses phasing out plastic bags, and more recently, an increasingly widespread bans on plastic straws.
I'd like to think our own kids have a lot to do with this — I've even seen research indicating that having kids is one of the primary reason that adults green up their lives. Nothing like having children to make you really really think about the future of our planet, right?
Top: New S'Well Bottle National Geographic Editions
CMP is an rstyle affiliate
Let's be realistic though…
Not everything is changing so fast. While there are some great reusable gift wrap alternatives, I think gift wrap is here to stay. (Though maybe we can cut down on it?) And I don't think that our germaphobic society is going back to cloth handkerchiefs any time soon.
Same goes for period underwear and reusable tampon applicators, which are still fairly niche — though we know many of our readers are huge fans and it's possible that our kids' generation evolves the general squeamishness.
So here, I'm focusing on a lot of common single-use items I think will go the way of the Dodo (or Betamax or plastic straw, ahem) in favor of more planet-friendly options. Best of all, making the switch to each of these is fairly easy, and will save you money too.
Spending less on K-cups and more on truly good coffee? Yes, please.
Related: LEGO gets more eco-friendly with a plastic made from…what??
8 single-use items we can easily replace
1. Grocery bags 
The BYO bag trend beyond classic tote bags blew up over 10 years ago, with options like Flip & Tumble and Baggu bags — both of which we covered back way in 2008 when they launched. We wrote, "this eco-bag thing is not a trend going away anytime soon" and hey it's nice to see we get it right sometimes!
Of course any reusable tote bag will do if you just get in the habit of carrying one in your handbag, or stashing a few in your car. But I love being able to just roll up my Baggu and Flip & Tumble nylon bags so compactly, they hardly take up any room in my handbag and don't add weight. Plus, so many stylish fabrics now! And the prices are great.
2. Plastic straws
500 million plastic straws are used each day and…wow. I'm so grateful to my kids for being the ones who pushed us into carrying around our own reusable straws (my "cool pick of the week" on a recent episode of Spawned).
The market is fast growing, with the brand new silicone straws from GIR that I just wrote about. And of course there are other alternatives including metal straws and glass straws — take your pick.
3. Cotton swabs
This is one of those great examples of a single-use product that we take for granted. I mean, has anyone ever considered making a reusable cotton swab before Last Swab? Not sure. But their design, packaging and marketing is so thoughtful, I think this could become a thing.
Related: Get your favorite household products delivered to your door, and help the environment too
4. Disposable sandwich bags
What parent among us does not have a decent stash of reusable lunch boxes  and lunch box supplies by now? We're already on it!
Now admittedly we still use baggies at my home, and I bet a lot of you do too. But it's usually for longer-term uses beyond snacks. Instead, take a look at 4 of our favorite reusable sandwich and snack containers which we concluded after much trying and sampling and uh, failing over the years. Stasher bags, shown here, remains a favorite with our team and really holds up over time.
5. Disposable lunch bags
There was a time, years ago, that we covered a company making more earth-friendly brown paper lunch bags. But still, we can do better. And this is one area when we already are. I mean, when's the last time you literally saw kids brown-bagging it to school? Our favorite lunch box brands are built to last more than one lunch. And more than one school year.
Should your kids need to bring a disposable bag to pack a lunch, say on a field trip day, just reuse a grocery bag or shopping bag of some kind you already have. If you're like me, you have a lot!
Related: How shopping on Etsy is now helping save he environment in a big way.
6. Plastic wrap 
We may need plastic wrap here and there, but we can certain cut way back down on it. One terrific solution: reusable silicone stretch lids. I was sent a press sample of these recentlyand  they work! Huzzah! Consider me a convert — and they're under 9 bucks, or the same prices as a big roll of plastic wrap.
Other options we've liked: Etee reusable food wraps (shown above) and Bee's Wrap beeswax food wraps, both of which our team has tried and will completely recommend.
7. Disposable K-Cups
I admit we all feel a little guilty around here in our rush a few years back to push the new technology of Keurig coffee makers. They may be convenient in an Airbnb, but for our homes, we think there's increasingly a stigma around single-use coffee pods.
There are lots of ways to make coffee including (drum roll…) a classic drip coffee makers. Or do what I do most of the time, and just use a simple Pour Over Coffee Cone Dripper — I am upgrading to this one, which doesn't even require filters.
If you want to keep making use of your Keurig (I get it!) at least invest in some reusable K-cups. It saves you a lot of money too. I also like the idea of getting a set of reusable K-cups in rainbow colors, so you can pre-fill them the night before, should you have multiple coffee drinkers at home who prefer different beans.
8. Plastic water bottles
I almost didn't include bottled water here, because I was under the impression that many families are already on the reusable water bottle bandwagon, and have been for a long time. (Just search "reusable water bottle" on this site — phew!)
But then, I found an article from a plastic industry trade website that indicates (gleefully) that after single-serve PET bottle sales are going up after more than a decade of going down.
While the increase is mostly because people are choosing water over carbonated soft drinks, and that's great from a health standpoint, from an environmental standpoint it's not. Americans are buying roughly 50 billion single-use water bottles a year, and the vast majority are not being recycled. But there's hope! It's becoming so stigmatized, that even Coke and Pepsi are working on ditching plastic water bottles.
So be sure to grab a reusable water bottle you love and use it. If every American cut down on only one bottled water purchase each week, imagine how much that would add up.
Liz Gumbinner